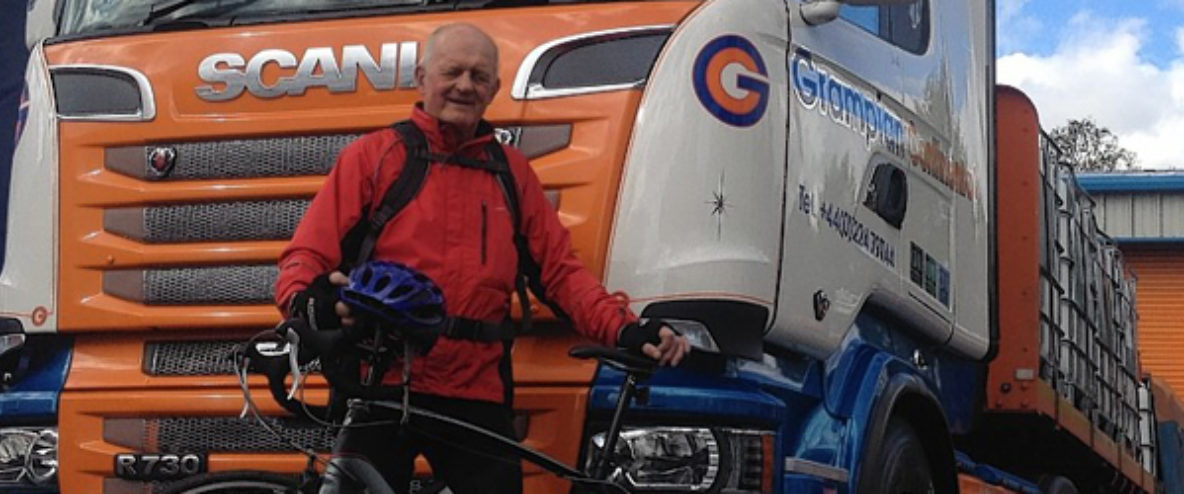 A North-east man is taking on the challenge of a lifetime after deciding to cycle to three European capitals, in just four days.
Jim Greig, a yard manager for Kinellar-based haulage company, Grampian Continental, is taking on The Euro City Cycle Challenge 2014, which will see the 68 year old cycle for 300 miles on an Eastern European trip across the North Sea into Holland and Belgium.
The keen road cyclist, who cycles around 80 miles every weekend, was inspired to take on the challenge after cycling from Holland to Germany last year while working for Grampian Continental in Holland.
Mr Greig cycled from Rotterdam to Hanover in Germany to visit his nephew last year and after this trip he decided he wanted to help raise money for a local charity through a cycling challenge, focusing his attention to finding the perfect platform to achieve this goal.
The Euro City Cycle Challenge 2014 begins in London on the 3 September 2014 and Mr Greig is raising money for North-east charity UCAN, a charity which Grampian Continental already supports.
Participants will start in London and cycle to Harwich in Essex, where the group will then board a ferry to the Hook of Holland.
From there, the group will travel to Amsterdam, followed by Breda and onwards to finish in the Belgium capital of Brussels.
Mr Greig said: "I've never experienced anything quite like this before. I've been cycling since the age of 40 but I've never cycled with anyone else before, never mind in a large group of people.
"Although it will be a tough challenge, I am really looking forward to the event and proud to be doing my bit for charity. Grampian Continental support local charity UCAN and I thought it would be a great idea to fundraise for the charity too. The company has donated £2,000 towards my fundraising efforts already which is fantastic."
Mr Greig, who has been at the firm for two and a half years, feels prepared to take on the four-day challenge after training hard by cycling 16 miles to work and back three times a week.
Sales director at Grampian Continental, Gavin Murray, said: "Jim has the full support of the team at Grampian Continental and we are all looking forward to seeing how he gets on. It's great he's helping raise funds for such a meaningful cause to the business and he's a keen cyclist so this challenge suits him perfectly."
A Just Giving page has been set up in support of Jim's efforts for UCAN. To make a donation to Jim's charity appeal page please visit http://www.ucanfundraise.org.uk/ucan-supporters/yo...
 or contact Grampian Continental on 01224 791144 for more information.